Canterbury knobbled weevil
Hadramphus tuberculatus
The Canterbury knobbled weevil is the third most endangered creature in New Zealand, after Maui's dolphin, and the Mokohinau stag beetle. They were thought to be extinct in the 1920's, but were rediscovered by accident in 2004, alive and well, if in small numbers, in the Burkes Pass Scenic Reserve. Estimates of their numbers are between 50, and 200.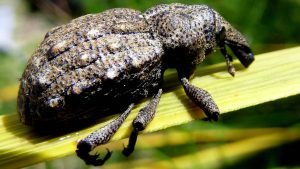 Photo credit Mike Bowie, Lincoln University.
They are 12 to 16mm in length, and heavily knobbled on their carapace, probably as an evolutionary device to avoid predation. They have been a part of New Zealand fauna for 60 million years. Regretfully, the knobbles can't save them from the current threats to their likely extinction.
The biggest threat to the survival of the knobbled weevil is the steady decline of it's habitat. The weevil lives exclusively on three varieties of speargrass; golden spaniard speargrass, blue speargrass, and needle-leaved speargrass. Sadly, speargrass are also increasingly rare. It's a tough, prickly plant, which was probably repellent to the moa, so thrived prior to moa extinction, but despite being an early coloniser is now out-competed by tussocks, exotic pasture grasses, and weeds like wilding pines and lupins.
This is unfortunate, because while the adult weevils live on speargrass pollen, the weevil larvae live exclusively on the roots of the speargrass, which eventually kills the host plant. You can see how they need an endless supply of new speargrass plants in order to survive. The weevil kills the thing it needs the most… Aside from this, the weevil larvae also compete with the larvae of a number of moth species for the speargrass roots. Other threats to the speargrass host are clearance by landowners, as it is a difficult plant for stock to move through, and fire. Fire has been a problem since earliest human habitation, firstly set by the moa hunters trying to flush moa out of the forests, and then by settlers clearing forest for pasture. Speargrass is also eaten by wallabies and hares, and uprooted by feral pigs.
Weevils, like our other native insects, are also predated on by rodents, hedgehogs, feral cats, and possums. Little owls, and ruru would almost certainly eat knobbled weevils, if they could spot any. Because the speargrass itself is threatened, DOC is trialing placing cages over a small group of plants in the Burke's Pass area where knobbled weevils are found. There are risks with translocation, because there is no guarantee translocated weevils will take to their new host speargrass plant. They have been raised in captivity with signs of breeding evident, but having an ever-decreasing gene pool is also a risk. Ultimately, the discovery of some new populations is the best hope for the survival of this species, but so far all searching has been prickly, and fruitless.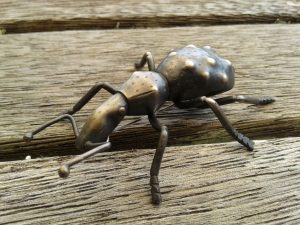 Silver brooch