Second Chatswood Ramble
The sky above our underworld at the bottom of the long and winding right-of-way looks as if it's about to spill it's innards, so armed with raincoats we head upwards to the Overworld of beckoning culs-de-sac. I'm altering my misguided spelling of the plural to the correct French plural. One cul-de-sac, many culs-de-sac. On the way up, we greet our neighbour who is spending his lockdown time painting his house, after cunningly panic-buying paint at the last possible moment. I note he is listening to Fleetwood Mac, which I hope is not a harbinger of daytime drinking to come. When we reach the top of the driveway, to my chagrin, I see that the sun is shining, and I will have to lug my raincoat around, which is partly why today only encompasses two and a half culs-de-sac.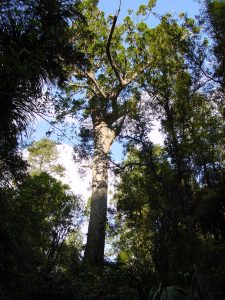 Kauri trees in Chatswood.
We turn left at the top of the right-of-way, and head up towards the main road, because I want to take the most direct route to my culs-de-sac of choice. There are bubbles of exercise-seekers littering the footpath, with no recourse to the roads, because unlike yesterday, the stream of cars is unrelenting. I'm assuming they are all heading New World-wards, to stand in a queue outside the supermarket, because that is what one does when the supermarket has been closed for an entire 24 hours over Easter Friday, even in a time of pandemic. Maybe there is a promise of flour and garlic corms no-one has alerted me to? I can't be bothered speculating.
We turn right off Mokoia Rd. into Porritt, which is not a cul-de-sac. It is a feeder of culs-de-sac, a mutually parasitic road system. Even though it doesn't occur in the environs of a cul-de-sac, I feel compelled to mention the tui we encountered. I am interested by tui song, because the tui who make my small patch of bush their territory have been sharing a song based on woofs and clicks. They've mimicked each other, so you can hear them woofing and clicking the same tune back and forth across the gully. Porritt appears to have a tui who is mimicking a learner clarinet player. There are a few breathy notes that sound as if they are being strained through a woodwind reed, and then a cascade of conventional tui wheezes. I'm sufficiently enchanted to stand and listen for a few minutes, till I realise that this could be misinterpreted as staring imprudently into mullioned windows, and promptly desist.
Trotting onwards, we pass a smug couple wearing homemade plastic face visors, then hang an abrupt left into Fitzpatrick, the first cul-de-sac on my agenda. I can best describe Fitzpatrick as a revelation! I'll not lie; there are wry nods to the mock-Tudor in this flatlands cul-de-sac, but the established plantings soften the brutalism of fancy plasterwork and fake half-timbering, and as we venture cautiously deeper into the cul-de-sac, skirting the center of road island planting, I spot a nineteen-seventies piece of fabulosity, dark-brown stained cedar, looming out of it's forest situation, a steeply pitched roof, with a bank of clerestory windows facing street-wards, allowing west-facing light to stream in unimpeded by dormers, shutters, arches, and tiles, or cupolas. It is reminiscent of Group architecture, and reaffirms my faith in humanity to not feel compelled to dwell in mock-Tudor monstrosities or neo-colonial travesties just because the rest of your suburb is. To top it off, I suddenly realise that there is a veritable forest of young kauri on this property, and spreading outwards up the cul-de-sac. It's a heart-warming sight, and I immediately want to award Fitzpatrick 5 leafblowers, but I exercise self-control and prudence, because Portsea is yet to come.
I once went to a sort of gathering in Portsea; a friend lived in a dysfunctional flat in this cul-de-sac, a few years ago. It was an awkward gathering because you could infer by the general lack of bonhomie that all the flatmates loathed and despised each others company. As I recall, we speed-drank our supplies gobbled down some food, and fled back to our long and winding right-of-way. There may have been sausages and salad on offer. On reflection, I think Simon may have attempted to ingratiate himself by manning the BBQ, though it was ultimately futile.
But I digress. The first thing I notice as we round the corner into Portsea is a man water-blasting his shrubbery with simian avidity. This strikes me as odd, so I briefly give him the benefit of the doubt, and assume it may be his spindly fence that the lacerating barbs of water are aimed at. But no, he is shredding his shrubs with fierce concentration, and it is not for me to question why.
I'll not dwell on Portsea, except to say; there is no port, there is no sea, just the relentless cancer of mock-Tudorism, brick and tile, and a monolithic clad house that plays Escher-like tricks on your eyes, because a sloping, jutting, triangular-shaped walled deck makes it appear the entire house is on an improbable slope. I espy an octagonal porthole on one house, a colourful diamond patterned leadlight window, and a real estate agent's sign promises me 'Paradise on Portsea', but I'm dubious. Portsea drags down the 5 leafblower enthusiasm I had for Fitzpatrick, and I feel I can't justifiably award more than 4, regretfully.
We stride purposefully up Harper, not a cul-de-sac, and head to the right down Onetaunga, the former street of Muldoon. I desperately wish to know where Sir Robert lived. I feel there should be a brass plaque, or somesuch, to note his lag in Chatswood. We veer briefly into the cul-de-sac of Radiata, but I quickly determine that Radiata is an outlier, and does not fit into the parameters of my brief. It cannot be a part of my every cul-de-sac in Chatswood project. Lines must be drawn.
As we approach our long and winding right-of-way, a replica silver Porsche 356 containing our house-painting neighbour and two children who are not the fruits of his loins turns abruptly in down the driveway, and speeds towards his partially painted house. Is he popping bubbles? Is this caused by excessive listening to Fleetwood Mac? I don't know, and I can't care.
Happy days.