Lasiorhynchus barbicornus.
Tuwhaipapa
The male giraffe beetle is the longest New Zealand beetle, at 85mm, the females are half that size.
They have been accused of not being a true weevil, because they lack an 'elbow' in their antennae, but it's just a slur; they belong to the sub-family Brentinae.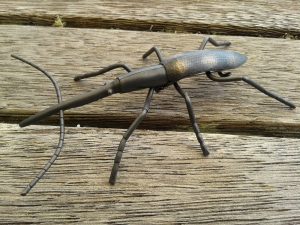 Silver brooch
They are found commonly in the lowland forests of the North Island, though they have been found as far south as Greymouth. I am dismayed I have never seen one, as they are active during the day, and they shelter quietly in the tree canopy at night, feeding on sap. If disturbed they will drop suddenly to the leaf litter, and feign death for up to an hour, which is a long time for a beetle who only lives for two weeks, though the larvae live for a couple of years.
The sexual dimorphism is pronounced between the males and females. The males are much larger, and can fly. They have a much longer rostrum, or stiff snout, and the antennae are located at the end of it. The females are smaller, flightless, and their antennae are halfway down their rostrum, which leaves the end of their snouts free for drilling into dead tree bark in order to lay eggs.
The males use their long rostrums for fighting over females, naturally enough. If a singleton male stumbles upon a happily mating pair he will rudely rake his mandibles on the male's back, and worse still, attempt to dislodge him by pulling on his opponents legs with his mandibles. This is probably why many males are amputees.
Once the challenger has dragged his opponent off, they will fight each other with their elongated snouts for the affections of the female. Amusingly, while this show of shirt-fronting is happening, a smaller male will often sneak in and mate with the female in question, proving diminutive size is no barrier to successful mating.
Curiously, they have been found with colonies of mites living on them. It's unknown whether the mites are parasitising the giraffe weevils, or hitching a ride in order to disperse more widely.